Other visitors with access requirements
Visitors with access requirements form a very wide group. These include not only visitors with disabilities but also seniors, children, people with a variety of chronic diseases and other issues.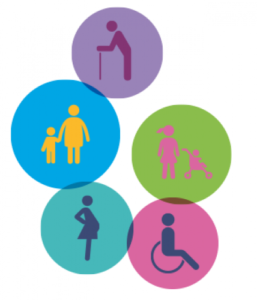 Ageing Adults
The life span within the human population is increasing. More and more people now expect to maintain an active economic and social life with a variety of suitable leisure options in both the public and private domains as they age. However, many human faculties are in marked decline as we grow older.
Familiarity with a particular environment can be a valuable aid to independent activity in all ages, while many older people enjoy travelling, experiencing new places, people and cultures.
Seniors have a strong need to get enough information: detailed information about the place itself, the transportation, the services provided and the surrounding area, including information about the availability of health care. They can be afraid to move around alone in an unfamiliar place.
Tourist guides and other group leaders may use badges, colourful clothing or other identifying props/marks to help members of a group keep together and to identify anyone who may stray from the group.
Old age is not a disease but seniors are more likely to suffer from a chronic illness. Consideration should also be given to a possible worsening of hearing and visual perception and potential problems with physical faculties. An accessible environment is important to them. 
Important tips for the tourism service provider: 
Be patient and ready to have extra time for the communication. 

Repeat, write down and underline important information. Signage should be written with  large  enough text in order to be able to see it, and this is the same for leaflets and brochures and for websites

Availability of 24-hour service and/or staff assistance is preferred

Keep in mind possible age-related impairments, disability and multiple disabilities.  Staff should be aware of the availability of doctors/pharmacies.

Short breaks during activities should be scheduled to let them rest and relax. Calm places to rest and relax are preferred. 
Other sources: 
Get acquainted with Good practices in tourism services for older adults:
Senior traveler experience and attitude
TASK: Do You have inspiring stories about such kind of travelers among Your friends, relatives etc.? Discuss issues they have experience/solve during the trips and present to Your class friends.
Developing Child 
An element of risk is an essential part of a child's development. However, it is important to ensure that the tourist venues and environments are safe for children.
Important tips for the tourism service provider: 
Guarding walls and barriers should not encourage small children to climb on them.

Windows and doors on upper floors and in supervised areas should have secure fastenings that small children cannot reach.

Parents and guardians should supervise young children to ensure they do not become separated from the group or lost.

It can be useful to create a special corner for the small children and cater the adults of the family. Make sure it is visible from any point of the room.

Areas of open water should be fenced off. 

Children should not be left unsupervised near water.  
Children have a specific perception and attention span requiring adapted communications and a suitable programme. Children under the age of 7 like to play, repeat, they are curious, but they have a short attention span. Children under 11 like to learn new things and engage in activities and they have a longer attention span.
Other sources: 
How to handle a guest with young children and elderly people?
Check this mom and her 14 month baby trip report from Italy
TASK: Find and discuss the key point she mentioned as important to have travelling experience with the baby.
Diversity of Stature – People of Very Large or Very Small Stature
People who are very tall or short, big or small, have different capabilities in terms of their reach and often their general mobility may be affected too. Smaller people can have difficulties in negotiating levels or steps and seeing (due to other people standing in the way).
Larger people may have difficulty in sitting or moving in confined spaces. Those who are grossly overweight may have difficulty in going up or down steps.
These guests may be exposed to danger in emergency situations because of their lack of ability to move easily or quickly, especially in case of evacuations.
Important tips for the tourism service provider: 
Make sure someone will be ready to provide special assistance, especially in emergency cases for such kind of clients.
Speech Impairment 
Speech impairment includes both lack of ability to speak (dumb) and people with dysarthria. Both categories of impairment can imply difficulties when holding a conversation with others. They may be misunderstood and this may lead to the danger of not being able to alert service personnel or another individual when needing help or when there is a danger.
Some people with speech impairments use sign language to speak to other people and they may also use assistive devices to enhance or supplement their speech, either with a keyboard or another communication device.
E.g. https://www.nhs.uk/conditions/social-care-and-support-guide/practical-tips-if-you-care-for-someone/how-to-care-for-someone-with-communication-difficulties/
Important tips for the tourism service provider: 
Pictograms may also serve as a medium of communication for those who lack speech.

Having paper and pencil handy can help to overcome communication problems for this group, in many situations.
Not Understanding the Language 
People who do not read and write the local language have difficulties due to not recognizing the written or spoken word and possibly symbols of a language.
They may not understand the meaning of speech or text and this can give problems and dangers such as not understanding warnings, directions or written instructions.
Important tips for the tourism service provider: 
Be patient and reasonable – nowadays, many apps can help you speak different languages. However, it is important to ascertain that customers have understood you properly. Don`t forget that a customer may have other specific access requirements. It is essential to discuss them.

In case of emergency (a foreign customer has got sick), you should have a translation center phone number.

Make sure that all signs are international (e.g. evacuation directions) and clearly visible from every spot of the room. 
More tips You can find here: https://www.dummies.com/business/customers/how-to-deal-with-a-customers-language-barrier/
Other sources: 
If you can`t image what problems you may face when serving customers that speak a foreign language or have an accent, you should definitely watch an extract from the popular comedy "Chinglish," a new comedy about the misadventures of miscommunication which had its world premiere at Chicago's Goodman Theatre, makes its way to Broadway's Longacre Theatre
Allergies and Other Sensitivities 
Some people are highly sensitive to certain substances in the environment, in foodstuffs or by direct skin contact which cause allergic reactions. The type and degree of allergy varies between individuals and can range from mild irritation to poisoning with severe debilitating conditions and even death.
Allergic reactions may be due to plants, hair of animals, food, chemicals and materials such as nickel and latex.
Contact allergy is caused by contact with the skin or by breathing in certain chemicals which the body then reacts to.
Environmental allergens include dust (often associated with carpets), building materials, smoke and flowering plants.
Allergic reactions can include running nose and eyes, and breathing problems which in acute circumstances can restrict activities of a person. Their reactions may be similar to those of the person who is lacking in stamina.
Where meals and drinks are included in a tour, guests should be asked to inform the group leader and/or catering outlet if they have food allergies.
Important tips for the tourism service provider: 
– Staff needs to be trained about the risks associated with allergic reactions. They must also be proactive and engaged. Being proactive means they make sure they are aware of any and all allergies that could affect customers' choices. Being engaged means that they are clear about services/ products they offer.
– There are legal requirements about the provision of information about allergens in food;, actions should be taken to avoid possible allergy risks, but you always can do more: education, cooperation, and teamwork are the keys to safely serving a guest who has a food allergy. Accurately plan handling guests with food allergies actions: 
Who will answer guests' questions regarding menu items? 

Who will be responsible for checking the ingredients used in menu items? 

What steps should the kitchen staff follow to avoid cross-contact between different foodstuffs?

How should staff members handle an allergic reaction?
Other sources: 
Check the example of the hotel, welcoming clients having allergy
Example of the allergy friendly menu
Epilepsy
Epilepsy is a neurological disorder characterized by epileptic seizures. Individuals reactions to the seizure may differ. The seizures which occur with sudden loss of consciousness can cause problems because the person can get hurt fainting, falling or hitting inappropriately any object. It would be ideal to prevent the fall, something which is not always possible.
The seizure mostly lasts a few minutes and stops spontaneously. When the person regains consciousness, they can be confused, disoriented, have difficulty in speaking, or may not be lucid and do not realise what happened.
Generally, people with epilepsy need regular and sufficient sleep, rest, enough liquids, avoid overheating, avoid situations and places that may trigger the seizures (lack of sleep, tiredness, change of climate, stress, places with bright and flashing lights, etc.).
Important tips for the tourism service provider: 
Make sure Your staff members are able to recognize symptoms of epilepsy and are able to provide necessary help in such case.
Short video about it
References: Information prepared and based on project ELEVATOR Report 2. Inclusive Tourist Guiding